Beltaine Ritual
April 30 @ 4:00 pm

-

9:00 pm

EDT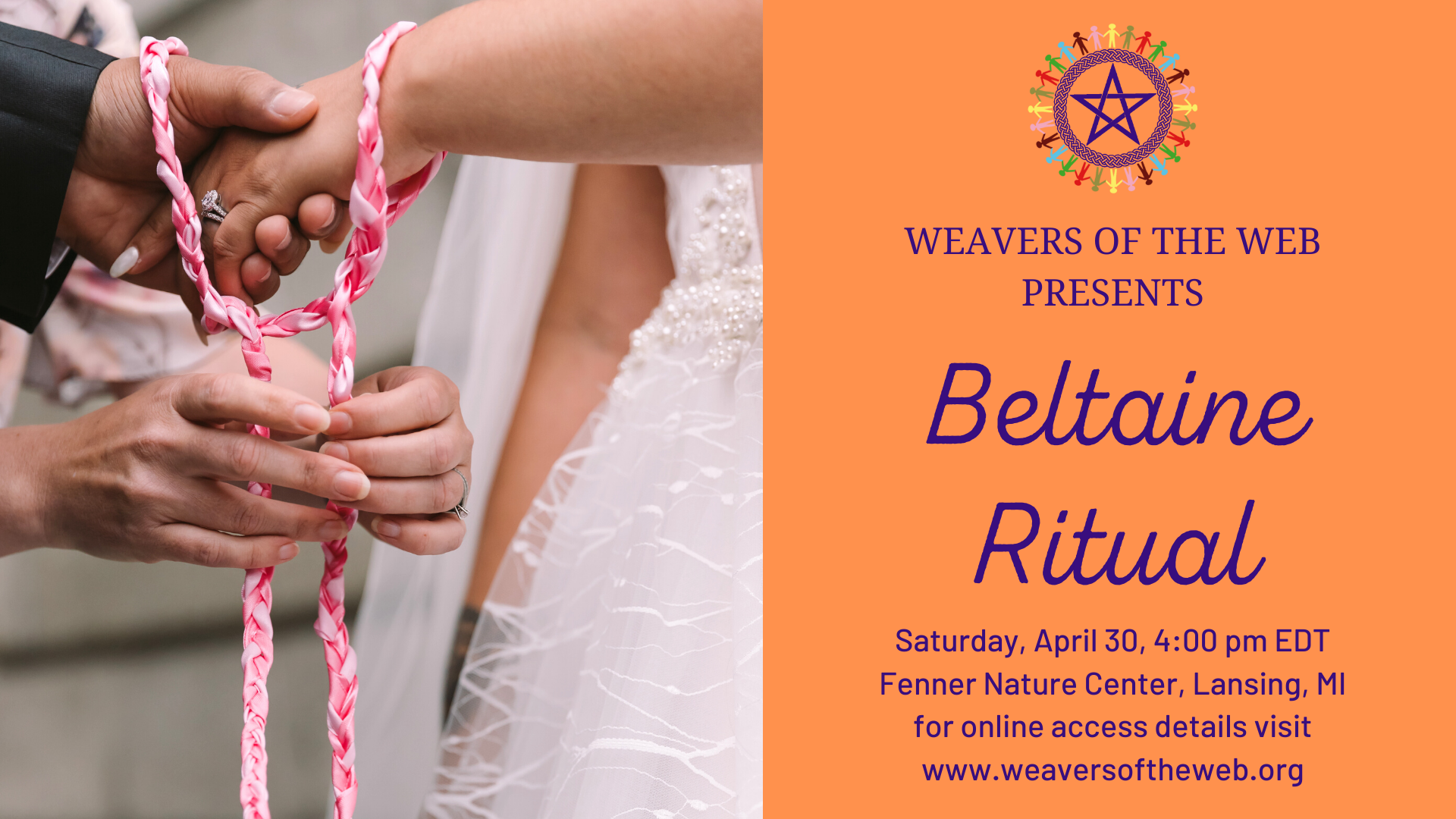 Join us in-person* or on Zoom as we celebrate the fullness of Spring with our Beltaine ritual. Learn the secrets of creation and fertility as we dance the maypole and the bonfire! Celebrate the blessed union, the blooming flowers and growing new life! We will be at the Fenner Center scout campground from 4pm until 9pm, with ritual at 5:00pm. Bring your favorite outdoor games and entertainment, along with plenty of food and drink (see potluck details below), and enjoy the evening in the beautiful Fenner woods as we the blessings of Beltaine in the grassy fields around the bonfire pit. Please make sure to bring your own seating, blankets, warm clothing, and whatever food and drink you will need for dinner. If you intend to have your handfasting, please make sure to contact Lord Solinox in advance.
If you are joining us online, we recommend setting up your own ritual space at home where you plan to be during the ritual. You may want candles, incense, God and Goddess representations, elemental tools, or anything else you have available for a working sacred space. This is optional, but will definitely help you get into the mood. Don't forget your Cakes and Ale, and have your own feast ready if you'd like to join in our potluck after ritual.
Attendance to our sabbat rituals is always free! Donations help to cover the cost of our space and materials, and help grow our Temple fund. You can help out by bringing cash, donating via PayPal, or become a subscribing member through Patreon.
Circle cast will be at 5:00pm, so please arrive early.
We are now organizing our potlucks with a signup system. Please click here and use the password "beltaine" to sign up for a potluck slot and let us know what you're bringing. We will also be livestreaming this ritual on our YouTube channel, and secure recordings are available to our Patreon members at the Mothering level. Our Zoom call will open at 4:00pm for social time, and will remain open after the ritual is complete as long as folks are still in the call.
As is now our tradition, we will be having a solo-cup raffle with donated items. If you have any items at home that are ready to bring joy to a new home, please consider bringing them to donate to the raffle. Tickets will go on sale at 4:00pm, and the drawing will be at 7:30pm. Online attendees are welcome to participate; a video tour of the auction table will be given immediately after ritual, and online tickets may be purchased via Paypal donation.
The Fenner Center scout campground is accessed via a hard-to-see driveway on Mount Hope just east of the main entrance; we will have signs at the street. You can park just inside the gate and hike down to the site, or those with handicapped permits are welcome to park with care in the field. Please arrive dressed and equipped appropriately for the weather; we cannot guarantee socially-distanced shelter in the event of rain. Fresh water and a pit toilet are available on site. The ground onsite is grass that is thick and mowed with some uneven terrain. Limited benches are available; we recommend bringing your own chairs if you expect to need seating.
SEVERE WEATHER PLANS: We will move this event to the store at Keys To Manifestation if a severe weather alert is issued or if winds exceed 20 mph. As long as it stays dry or is just raining, we will be at the campground. Please be careful, and plan for getting wet or being chilly this time of year!