Beltaine Ritual
May 1 @ 4:00 pm

-

9:00 pm

EDT

$5 – $50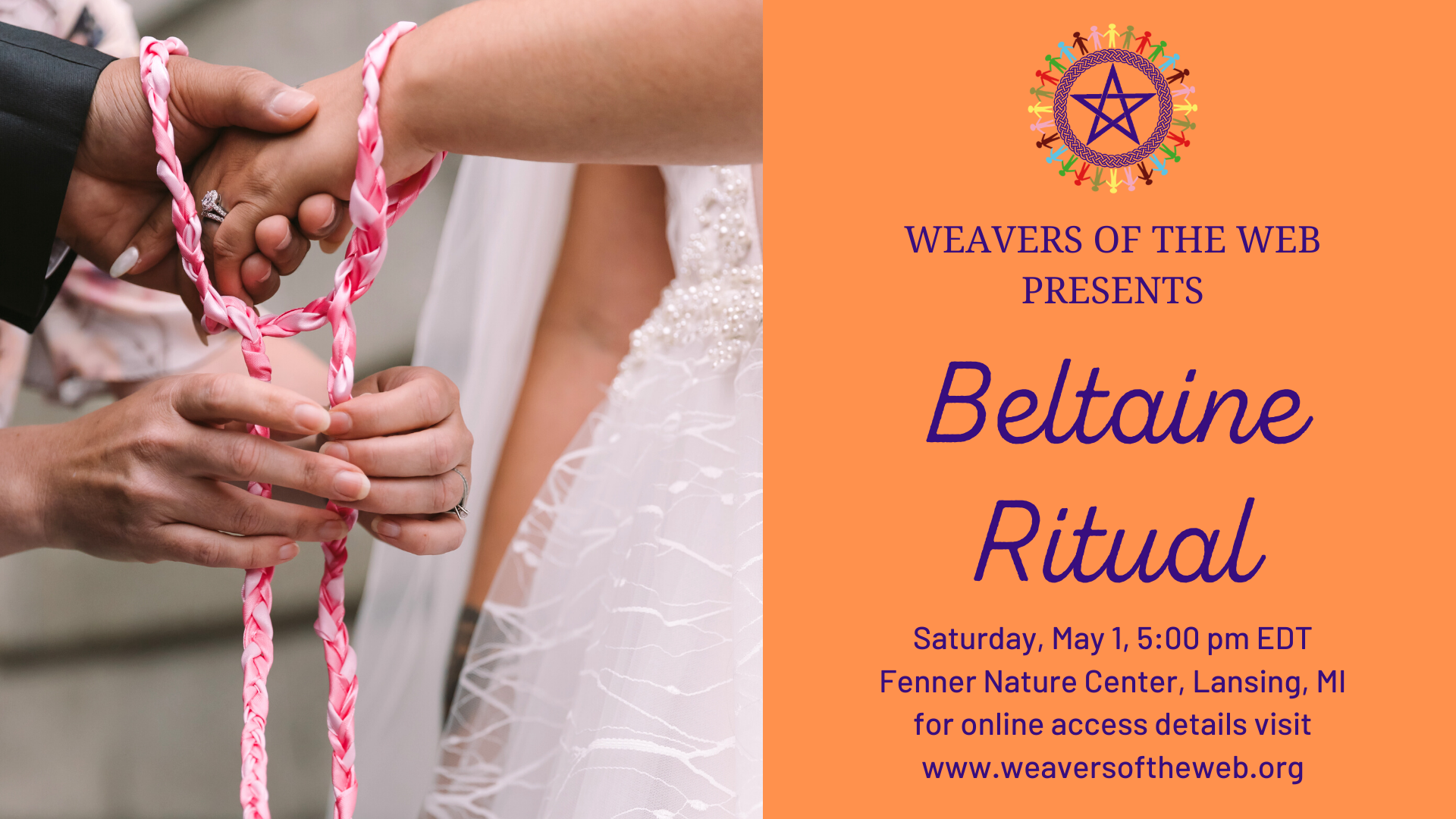 For the light half of 2021, we are returning to the Fenner Center's scout campground for our sabbat bonfires and rituals. Our annual celebration of the Sacred Marriage will also be available by Zoom, YouTube livestream, and Patreon, as usual, so everybody can enjoy the ritual in whichever manner calls to them best. (Click on the links above for online access.) Witness the handfasting vows, and then you can choose to make your own vows before the elements and the community to fertilize your own goals for the year.
In order to keep our ritual as safe as possible, we ask that everyone attending in person wear masks and maintain social distancing. We offer free handfastings on Beltaine; please contact us directly as soon as possible if you'd like to take advantage of this opportunity to get married or renew your vows. Cakes and ale will be individually packaged for consumption after the ritual. If you would like to stay after the main ritual for feast time, we ask that you bring your own picnic dinner and a blanket or awning to set up your own separate space in the field. IF YOU ARE FULLY VACCINATED (i.e., 2 weeks or more past your final dose), bring your vaccine cards to get marked as vaccinated; we will still ask that you wear masks during ritual, but this will allow you to identify each other for safe socializing before and after.
For those of you who are planning to attend online, you'll want to create your own vows to the elements as well as cakes and ale (food and drink that involve honey and seeds are excellent choices). Setting up your ritual space at home with incense, candles, and your regular altar supplies will help enhance your experience.
Attendance to our sabbat rituals is always free! If you purchase a sponsorship ticket from our website, your donation will go toward purchasing ritual supplies. This will allow us more flexibility to use deity statues, decorations, props, and gifts, as well as covering our cakes and ale and other supplies, helping to enhance the ritual experience for everybody. Please note that this is optional; you do not need a ticket to attend the ritual!
Circle cast will be promptly at 5pm. (Our Zoom call will start a little early for social time.) In-person attendees are asked to maintain safe social distancing during the ritual. Masks are required for all attendees, and disposable masks will be available as well as hand sanitizer.
The Fenner Center scout campground is accessed via a hard-to-see driveway on Mount Hope just east of the main entrance; we will have signs at the street. You can park just inside the gate and hike down to the site, or you are welcome to park with care in the field. Please arrive dressed and equipped appropriately for the weather; we cannot guarantee socially-distanced shelter in the event of rain. There is a pit toilet available on site. The ground onsite is grass that is thick and mowed with some uneven terrain. Limited benches are available; we recommend bringing your own chairs if you expect to need seating.