Lammas Ritual
August 6 @ 4:00 pm

-

9:00 pm

EDT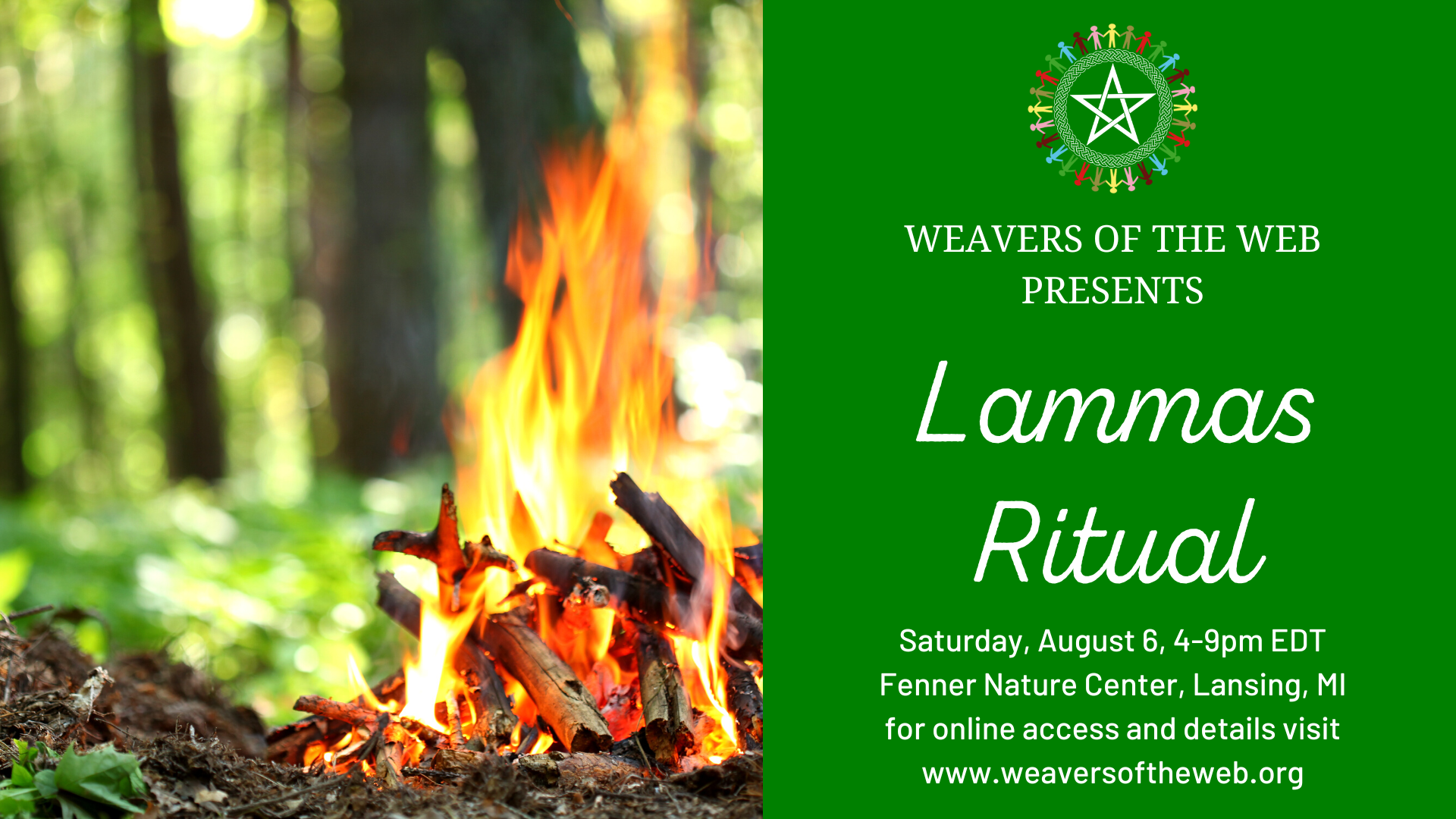 Entrance is NOT via the Fenner main gate. Please follow signs.
4pm: Gates open, monologues begin. See WSTS students invoke and present deity messages!
5pm: Main Ritual
7:30pm: teacup raffle drawing (donations welcome!)
Join us as we celebrate the First Harvest with our Lammas festival. We will be at the Fenner Center scout campground from 4pm until 9 pm this year. Bring sunscreen and bug repellant, outdoor toys and games, chairs, snacks and drinks, anything you need to enjoy a day in the woods with friends and family.
At 4pm, we are proud to present our local Lammas Monologues. Students at the Woolston-Steen Theological Seminary and WISE-ATC initiatory students are required every year to invoke a deity and present their message. For our first year doing this locally, we have six monologues to present. This is a great opportunity to meet some deities and hear from them firsthand, and also support our clergy-in-training who have spent weeks preparing for you. (Please note that personal shrine time will not be available during this event.)
At 5pm, we will hold our traditional Weavers Lammas ritual and bonfire honoring the sacrifices and transformation of this time of year. Our main ritual will also be available by YouTube livestream and Patreon, as usual, so everybody can enjoy the ritual in whichever manner calls to them best. (Click on the links above for online access.) We will build our corn dollies during the monologues and at the beginning of our ritual before sacrificing them to the flames. As a friendly reminder, all observers of WISE-tradition rituals must be participants within the circle, and all are welcome.
If you are joining us online, we recommend setting up your own ritual space at home where you plan to be during the ritual. You may want candles, incense, God and Goddess representations, elemental tools, or anything else you have available for a working sacred space. This is optional, but will definitely help you get into the mood. Don't forget your Cakes and Ale, and have your own feast ready if you'd like to join in our potluck after ritual. Get some corn husks from the grocery store or your nearest corn farmer and get them soaking earlier in the day if you'd like to make your doll along with us.
Attendance to our sabbat rituals is always free! Donations help to cover the cost of our space and materials as well as help grow our Temple fund. You can help out by bringing cash, donating via PayPal, or become a subscribing member through Patreon. Circle cast will be at 5:00pm, so please arrive early.
We are now organizing our potlucks with a signup system. Click here and use the password "Lammas" to sign up. Please make sure to label your contributions with all ingredients for the benefit of those with food sensitivities and allergies. If you need your food kept warm during the day, please let us know and bring your food in a large, disposable aluminum tray; we have a limited number of chafing racks available. There is no power on site, so please keep that in mind when planning your contributions.
As is now our tradition, we will be having a teacup raffle with donated items. If you have any items at home that are ready to bring joy to a new home, please consider bringing them to donate to the raffle. Tickets will go on sale at the beginning of the day, and the drawing will be at 7:30pm. Online attendees are welcome to participate; a video tour of the auction table will be given immediately after ritual, and online tickets may be purchased via Paypal donation.
The Fenner Center scout campground is accessed via a hard-to-see driveway on Mount Hope just east of the main entrance; we will have signs at the street. You can park just inside the gate and hike down to the site, or those with handicapped permits are welcome to park with care in the field. Please arrive dressed and equipped appropriately for the weather; we cannot guarantee socially-distanced shelter in the event of rain. Fresh water and a pit toilet are available on site. The ground onsite is grass that is thick and mowed with some uneven terrain. Limited benches are available; we recommend bringing your own chairs if you expect to need seating.
SEVERE WEATHER PLANS: We will move this event to the store at Keys To Manifestation if a severe weather alert is issued or if winds exceed 20 mph. As long as it stays dry or is just raining, we will be at the campground. Please be careful, and plan for getting wet or being chilly this time of year!