Mabon Ritual
September 25, 2021 @ 4:00 pm

-

9:00 pm

EDT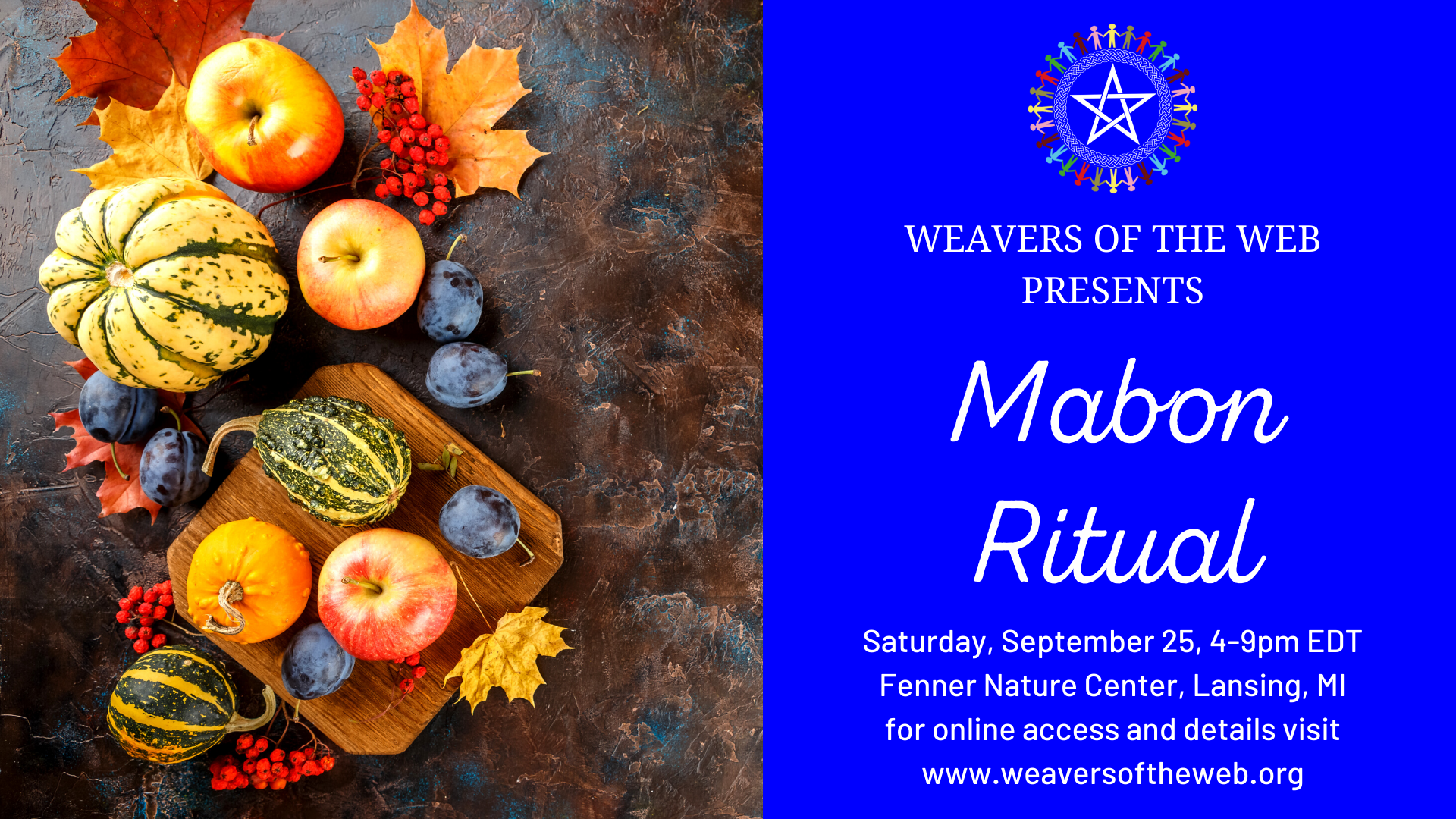 Celebrate the Second Harvest with Weavers of the Web with a feast, ritual, and silent auction! We will be at the Fenner Center scout campground from 4pm until 9pm this year, with ritual at 6:30pm. Bring your favorite summertime outdoor games and entertainment, along with plenty of food and drink for your family, and enjoy the evening in the beautiful Fenner woods as we share our harvest feast in the grassy fields around the bonfire pit. Please make sure to bring your own seating, blankets, warm clothing, and whatever food and drink you will need for dinner. If you have any last sacrifices for the fires this year, bring them with you.
Our wonderful Fundraising Coordinator has put together a small selection of valuable items for our silent auction, with proceeds benefitting the Temple Project. Included are tickets to the Michigan Witches' Ball, restaurant gift cards, a $1000 certificate to Junk In The Trunk, and more! Bidding will open on September 15 when the items will go on display at Keys To Manifestation. Place a bid by adding your name and contact information to the auction forms in the store, or by contacting Solinox Silverstar directly. Bids will continue to be accepted at Fenner until the start of ritual, and winners will be able to pay for and collect their items after ritual.
At 6:30pm, we will hold our Mabon ritual and bonfire, as we give thanks for the harvest and prepare to cross over into the dark half of the year. Our ritual will also be available by Zoom, YouTube livestream, and Patreon, as usual, so everybody can enjoy the ritual in whichever manner calls to them best. (Click on the links above for online access.) Share your triumphs and your regrets from 2020, and get a glimpse of that which is to come. As a friendly reminder, all observers of WISE-tradition rituals must be participants within the circle, and all are welcome.
For those of you who are planning to attend online, you'll want to have your own feast ready for before the ritual, as well as cakes and ale for during the ritual (food and drink that involve squash, apples, and other seasonal items are excellent choices). If you have a safe space, light your own fire or a candle, and have a method of divination handy. (You can get a free rune drawing at Eye of the Psychic if you don't have anything handy at home.) Setting up your ritual space at home with incense, candles, and your regular altar supplies will help enhance your experience.
Attendance to our sabbat rituals is always free! Donations help to cover the cost of our space and materials, and help grow our Temple fund. You can help out by bringing cash, donating via PayPal, or become a subscribing member through Patreon.
Circle cast will be promptly at 6:30pm.
The Fenner Center scout campground is accessed via a hard-to-see driveway on Mount Hope just east of the main entrance; we will have signs at the street. You can park just inside the gate and hike down to the site, or you are welcome to park with care in the field. Please arrive dressed and equipped appropriately for the weather; we cannot guarantee socially-distanced shelter in the event of rain. Fresh water and a pit toilet are available on site. The ground onsite is grass that is thick and mowed with some uneven terrain. Limited benches are available; we recommend bringing your own chairs if you expect to need seating.
SEVERE WEATHER PLANS: We will move this event to the store at Keys To Manifestation if a severe weather alert is issued or if winds exceed 20 mph. As long as it stays dry or is just raining, we will be at the campground. Please be careful, and plan for getting wet or being chilly this time of year!