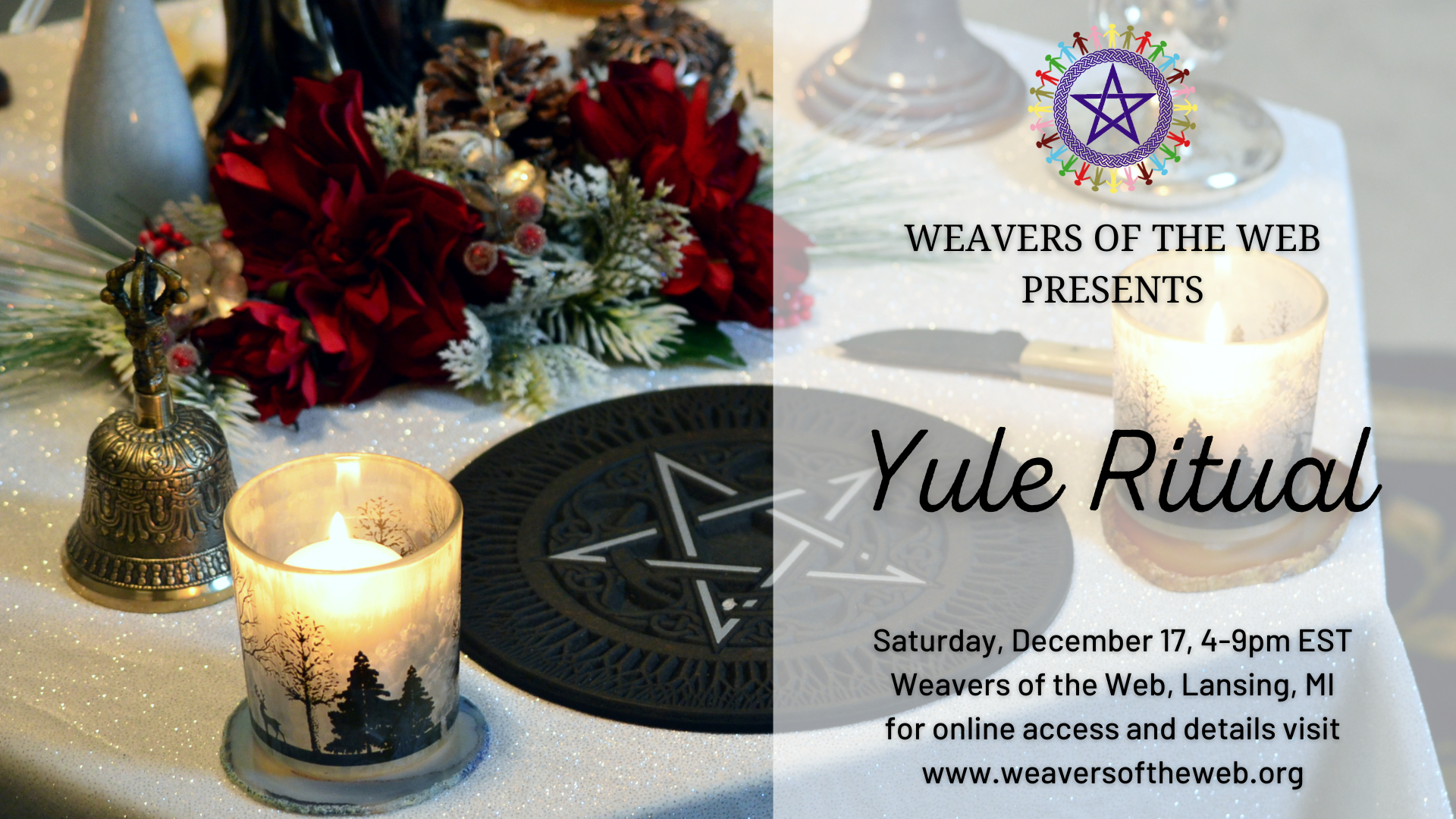 Date:
Location: Weavers of the Web, ATC, 809 Center Street, Suite 7A, Lansing, MI 48906
Celebrate the best of 2022, leave the worst behind to be transformed by the flames of the Yule log, and get a glimpse of things to come before receiving your happy Yule gift from Santa.
This ritual will be at the church/store.
4pm: Doors open, raffle tickets go on sale
5pm: Circle cast
6:30pm (or after ritual): Feast begins. Order meal tickets ahead (deadline December 15!) or bring food for yourself.
7:30pm (or when feasting is finished): teacup raffle drawing (donations welcome!)
Celebrate the Winter Solstice with Weavers of the Web with a ritual to welcome in the renewal of the light and to exchange gifts. We will be at the church for this ritual, so be mindful of space and bring extra chairs for your group if you can. Bring a gift to exchange that is recycled (i.e., from your home, not purchased).
At 4pm, our doors will open and raffle tickets will go on sale. Circle cast will be at 5pm for our traditional Weavers Yule ritual honoring the rebirth of the light. Our main ritual will also be available by YouTube livestream and Patreon, as usual, so everybody can enjoy the ritual in whichever manner calls to them best. Everyone will have a chance to honor the season in our ritual. As a friendly reminder, all observers of WISE-tradition rituals must be participants within the circle, and all are welcome.
After ritual, we will break bread together. Click here to purchase your meal tickets for our shared feast (purchase before December 15!). Iced tea and water will also be available. We encourage those who can to purchase extra meal tickets for those who cannot; if you cannot afford a meal ticket, please contact Lord Solinox for assistance. If the catered food options do not work for you at this time, you can always bring your own meal in.
For those of you who are not planning to come in-person, we are offering the ability to purchase a "gift ticket" in exchange for a $5 donation, and we will send you a small gift in the mail that you can open during the online ritual. In addition to your gift, you'll also want to have a tree or something symbolic to decorate, along with decorations for it; a candle or Yule log; runes for divination (visit this page for a free online rune drawing if you don't have your own), and cakes and ale. Setting up your ritual space at home with incense, candles, and your regular altar supplies will help enhance your experience.
Attendance to our sabbat rituals is always free! Donations help to cover the cost of our space and materials as well as help grow our Temple fund. You can help out by bringing cash, donating via PayPal, or become a subscribing member through Patreon. Circle cast will be at 5:00pm, so please arrive early.
As is now our tradition, we will be having a teacup raffle with donated items. If you have any items at home that are ready to bring joy to a new home, please consider bringing them to donate to the raffle. Tickets will go on sale at the beginning of the day, and the drawing will be at 7:30pm. Online attendees are welcome to participate; a video tour of the auction table will be given after ritual, and online tickets may be purchased via Paypal donation.
Weavers of the Web is located inside Keys To Manifestation in the Oakland Center on Center Street between Saginaw and Oakland in downtown Lansing. Enter through the main double doors at the center of the front of the building.