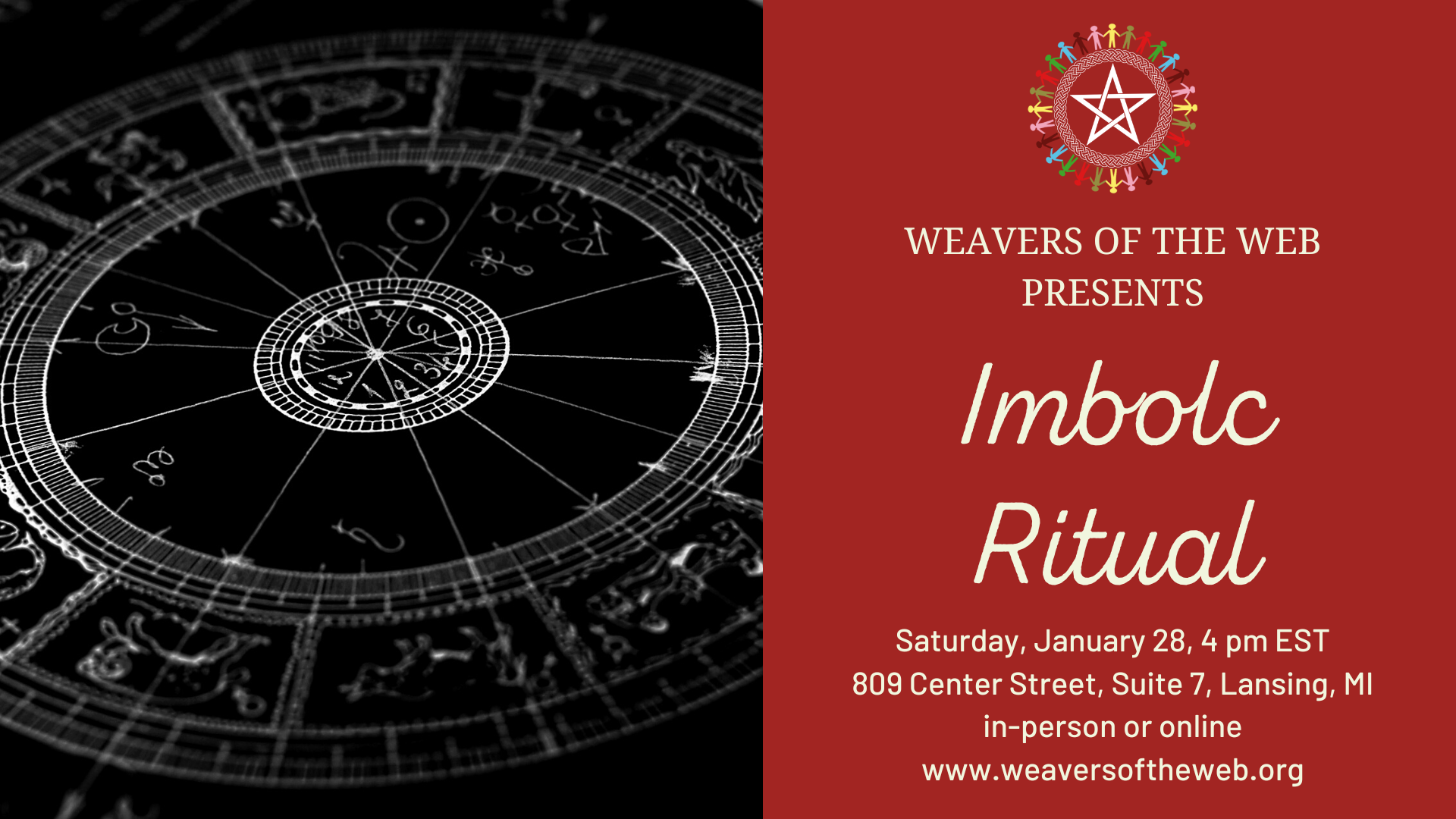 Date:
Location: Weavers of the Web, 809 Center Street Ste. 7A, Lansing, MI 48906
The ritual itself will take place inside Keys To Manifestation.
4pm: Doors open, raffle tickets go on sale.
5pm: Circle cast.
6:30pm (or after ritual): Feast begins. Order meal tickets ahead (deadline January 25!) or bring food for yourself.
7:30pm (or when feasting is finished): teacup raffle drawing (donations welcome!)
Join us in-person or on Zoom as we set our intentions and goals for 2022 in our Imbolc ritual. Every spring, we set up to a dozen personal goals to guide our actions through the year. These can be aligned with the elements, with the zodiac, or just things that are very important to you right now. Plan ahead, write your goals down, and bring them to the ritual. Our traditional Weavers Imbolc ritual involves decorating, charging, and then eating cookies to represent setting our goals and then making them a part of ourselves; please let us know ahead of time if you have any dietary concerns so that we can provide safe, edible options for everybody.
WISE students and initiates set 12 goals each year, one for each of the astrological Houses. We offer an Imbolc goals packet as an excellent way to organize your goals for our ritual. An astrological wheel is also good for getting them into a single page, where you could post them in a place where you see them every day. If 12 goals sounds a little overwhelming, you can use an elemental wheel or other graphics to write down just 4 or 5 goals aligned with the elements.
At 4pm, our doors will open and raffle tickets will go on sale. Circle will be cast at 5pm for our traditional Weavers Imbolc ritual setting our intentions for 2023. Our main ritual will also be available by YouTube livestream and Patreon, as usual, so everybody can enjoy the ritual in whichever manner calls to them best. Everyone will have a chance to set and charge their intentions in our ritual. As a friendly reminder, all observers of WISE-tradition rituals must be participants within the circle, and all are welcome.
For the best online experience, we recommend setting up your own ritual space at home where you plan to be during the ritual. You may want candles, incense, God and Goddess representations, elemental tools, or anything else you have available for a working sacred space. This is optional, but will definitely help you get into the mood. You can always make or buy your own cookies; anything edible that you can decorate will work for this ritual. Be sure to have something to drink as well!
After ritual, we will break bread together. Click here to purchase your meal tickets for our shared feast (deadline is January 25!). Iced tea and water will also be available. We encourage those who can to purchase extra meal tickets for those who cannot; if you cannot afford a meal ticket, please contact Lord Solinox for assistance. If the catered food options do not work for you at this time, you can always bring your own meal in.
Attendance to our sabbat rituals is always free! Donations help to cover the cost of our space and materials as well as help grow our Temple fund. You can help out by bringing cash, donating via PayPal, or become a subscribing member through Patreon. Circle cast will be at 5:00pm, so please arrive early.
As is now our tradition, we will be having a teacup raffle with donated items. If you have any items at home that are ready to bring joy to a new home, please consider bringing them to donate to the raffle. Tickets will go on sale at the beginning of the day, and the drawing will be around 7:30pm. Online attendees are welcome to participate; a video tour of the raffle table will be given after ritual, and online tickets may be purchased via Paypal donation.
Weavers of the Web is located alongside Keys To Manifestation in the Oakland Center on Center Street between Saginaw and Oakland in downtown Lansing. Enter through the main double doors at the center front of the building.