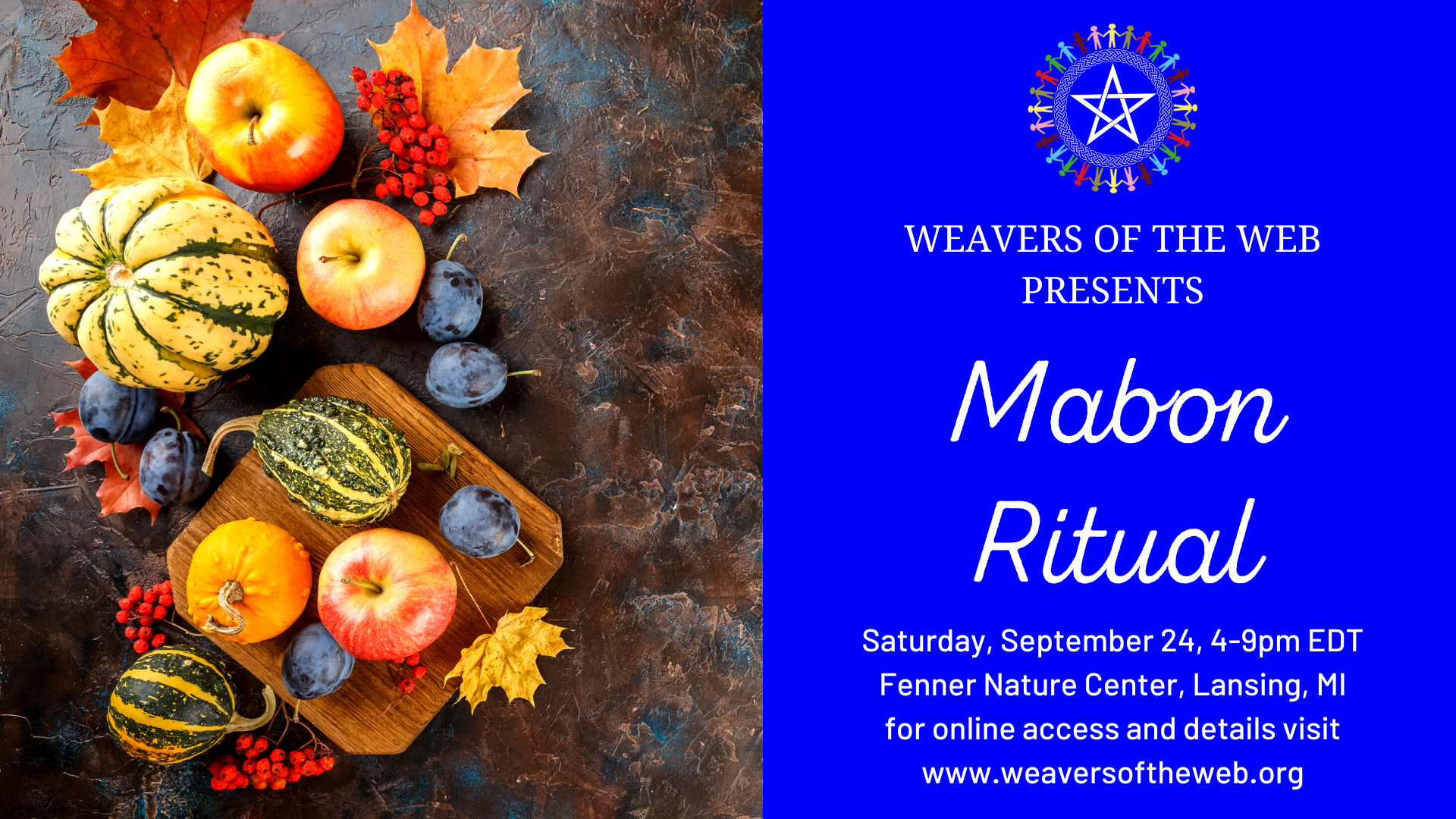 Date:
Location: Fenner Nature Center 2020 E. Mt. Hope Ave. Lansing, MI 48910 Scout Campground entrance (east of main entrance)
Add to Calendar:
Entrance is NOT via the Fenner main gate. Please follow signs.
4pm: Gates open, raffle tickets go on sale
5pm: Feast begins. Order meal tickets ahead or bring food for yourself.
6pm: Circle cast
7:30pm (or when ritual is finished): teacup raffle drawing (donations welcome!)
Special raffle item: 8 tickets to see the Tigers game on September 28th!!
Join us as we celebrate the Second Harvest with our Mabon feast and ritual. We will be at the Fenner Center scout campground from 4pm until 9 pm this year. Bring sunscreen and bug repellant, extra chairs, layers to stay warm, and anything else you may need to enjoy an evening in the woods with friends and family.
At 4pm, our gates will open and raffle tickets will go on sale. At 5pm, we will break bread together at our Pagan Thanksgiving feast. This year for the first time we are offering a catered option instead of potluck. Click here to purchase your meal tickets with your choice of a burrito from Qdoba. Iced tea and water will also be available. We encourage those who can to purchase extra meal tickets for those who cannot; if you cannot afford a meal ticket, please contact Lord Solinox for assistance. If the catered food options do not work for you at this time, you can also bring your own meal in.
Circle cast will be at 6pm for our traditional Weavers Mabon ritual and bonfire honoring our accomplishments as well as the transformation of this time of year. Our main ritual will also be available by YouTube livestream and Patreon, as usual, so everybody can enjoy the ritual in whichever manner calls to them best. We will celebrate our greatest achievements of the year around the bonfire before crossing the veil to speak with Hel in the underworld. As a friendly reminder, all observers of WISE-tradition rituals must be participants within the circle, and all are welcome.
If you are joining us online, we recommend setting up your own ritual space at home where you plan to be during the ritual. You may want candles, incense, God and Goddess representations, elemental tools, or anything else you have available for a working sacred space. This is optional, but will definitely help you get into the mood. Don't forget your Cakes and Ale, and have your own meal ready if you'd like to join our feast before the ritual. You may want an apple as well.
Attendance to our sabbat rituals is always free! Donations help to cover the cost of our space and materials as well as help grow our Temple fund. You can help out by bringing cash, donating via PayPal, or become a subscribing member through Patreon. Circle cast will be at 6:00pm, so please arrive early.
As is now our tradition, we will be having a teacup raffle with donated items. If you have any items at home that are ready to bring joy to a new home, please consider bringing them to donate to the raffle. Tickets will go on sale at the beginning of the day, and the drawing will be at 7:30pm. Online attendees are welcome to participate; a video tour of the auction table will be given before ritual, and online tickets may be purchased via Paypal donation.
The Fenner Center scout campground is accessed via a hard-to-see driveway on Mount Hope just east of the main entrance; we will have signs at the street. You can park just inside the gate and hike down to the site, or those with handicapped permits are welcome to park with care in the field. Please arrive dressed and equipped appropriately for the weather; we cannot guarantee socially-distanced shelter in the event of rain. Fresh water and a pit toilet are available on site. The ground onsite is grass that is thick and mowed with some uneven terrain. Limited benches are available; we recommend bringing your own chairs if you expect to need seating.
SEVERE WEATHER PLANS: We will move this event to the store at Keys To Manifestation if a severe weather alert is issued, if lightning strikes within 5 miles of the site, or if winds exceed 20 mph. As long as it stays dry or is just raining, we will be at the campground. Please be careful, and plan for getting wet or being chilly this time of year!