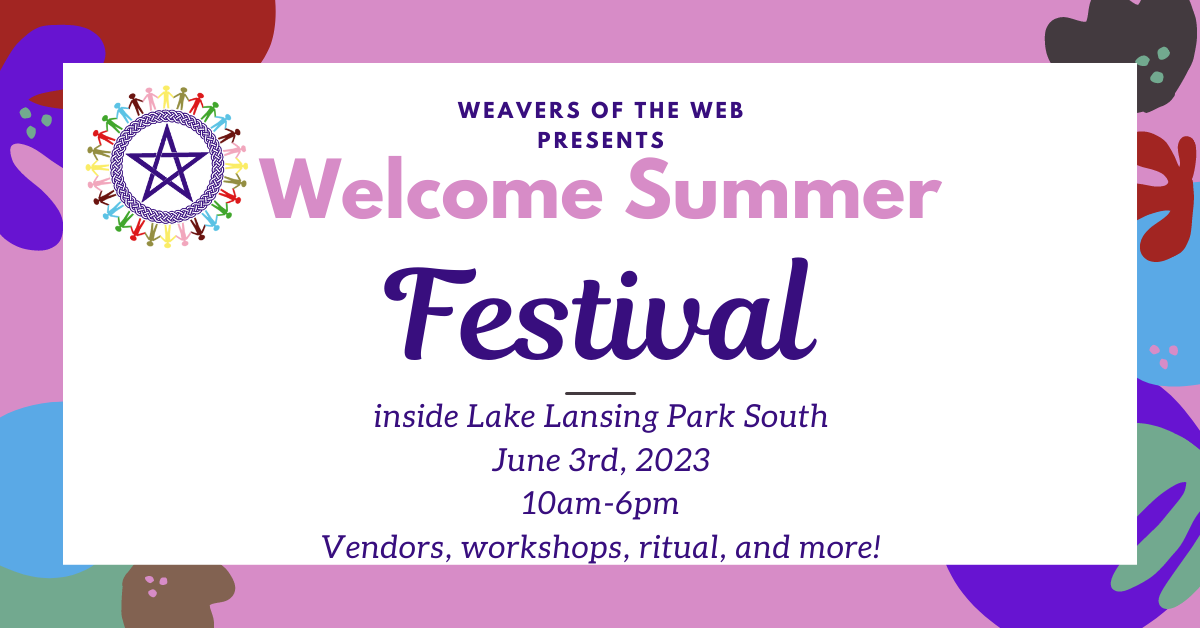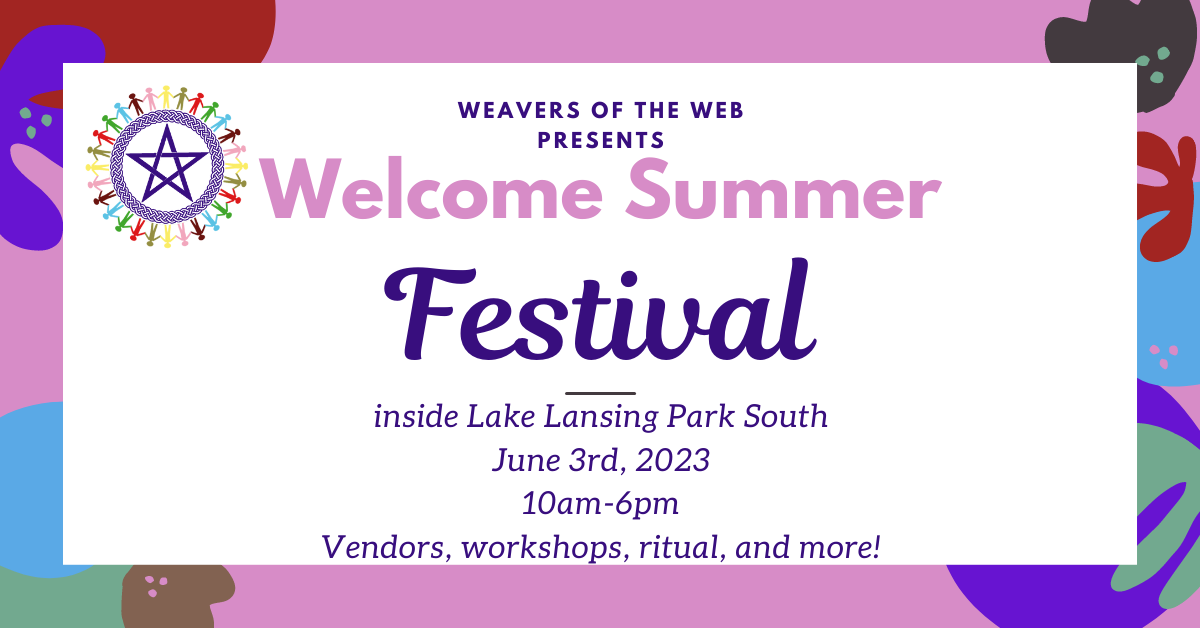 Date:
Location: Lake Lansing Park South, 1621 Pike Street, Haslett, MI 48840-8264
Join Weavers of the Web as we celebrate the second annual Welcome Summer Festival at Lake Lansing Park South! Meet and shop with our many local vendors, artists, and creators; enjoy delicious snacks from our food truck; attend workshops and public ritual; and win prizes at our charity raffle. Please bring shelf-stable donations for the Pagans In Need food pantry for entry; all proceeds will go to benefit Pagans In Need and the Temple Project.
Events begin at 10am and continue until 6pm:
10:00am — Vendors and raffle ticket sales open.
Pagan Pantheon Class with Terry Hughes and Tanya Chiles
11:00am — The Flowers of Life: Gazing Auras with Your Third Eye with Cyran Thrice
12:00pm — Supporting LGBTQIA+ in Your Circles with Ella Silverstar
1:00pm — Main Ritual: Earth-Centered Environmental Awareness with Walnut Witches Coven
3:00pm — Sympathetic Magic with Erin Wilson-Boget
4:00pm — Moving Meditation with Alfred Silverstar
5:00pm — Charity Raffle — must be present to win
6:00pm — Vendors close
Look for our signs at the park entrance. There is a small fee to park inside the park of $3 for Ingham county residents and $5 for non-residents.
Our vendor list includes:
Dark Muse Designs by Mara
Fallon Moon Boutique
Hummingbird Hawk-Moth
Kitchen Kreations
Majestic Treasures and Specialties
Meghan Norton
Metamorph Magic
Moon Fawn Company
Punk  Art Collective
Stone Cold Quillers
Tourmaline's Addiction
Wilder Dreams Creative Studios
Zareena Yvonne Faroqui
10′ x 10′ vending spaces are still available for only $25. Apply here.